The First + The Last: Black Motherhood
Issue No. 4: Black Maternal Health
Photography + Words - Solana Cain
"We often envision the hallmark of slavery's inhumanity as the slave picking cotton under the overseer's lash. As much as slaves' forced labor, white's control of slave women's wombs perpetrate many of slavery's greatest atrocities."
— Dorothy Roberts, Killing the Black Body: Race, Reproduction and the meaning of Liberty
Once, Black Mothers had to decide whether to be complicit in producing human chattel for their masters. Today, expectant Black mothers in America are faced with the decision whether to be admitted into the hospital, where they are three to four times more likely to die from pregnancy-related causes than white women. This disparity is not tied to economics or education, rather, it is the lived experience of being a Black Woman in America. In Canada, however, very limited studies have been done on experiences of Black women giving birth. We lack the evidence, yet the birth stories from Black women in our community tell of inaccessible resources and obstetric violence.
These portraits and statements from each mother, recognize, honour and celebrate Black Motherhood. With the additional intent of shedding a light on racial inequality within the maternity ward and the meaning of Black reproductive justice.
"If I hadn't gotten the epidural I would have been able to push. I blamed myself and I blamed the fact that I felt that I was lazy."

"It feels like the coolest secret society where I know I might say something and every other mom might miss it except the other Black Mom, and she's going to get it and she'll give me a wink."
"Sometimes I wish I had been more firm and said, 'no, I don't want to do that'."
"To be able to bring life into the world is a Godly experience. Beyond anything I've ever experienced on the planet. Black Motherhood in particular, because, we were The First."
"I think a lot of the women I spoke to were resigned to birth being a terrible experience and didn't really think that there are a lot of other options for how it could happen."
"She was a little egg inside of me and I was inside of my mom so she has been inside my mom. There's a generational connection cross Mothers that binds us together."
"I delivered him naturally and I felt so strong. Nobody could tell me I wasn't a Queen after that."
"He didn't cry the same way that the other boys did, because, they came out to the cold hospital air. Real assaulting elements."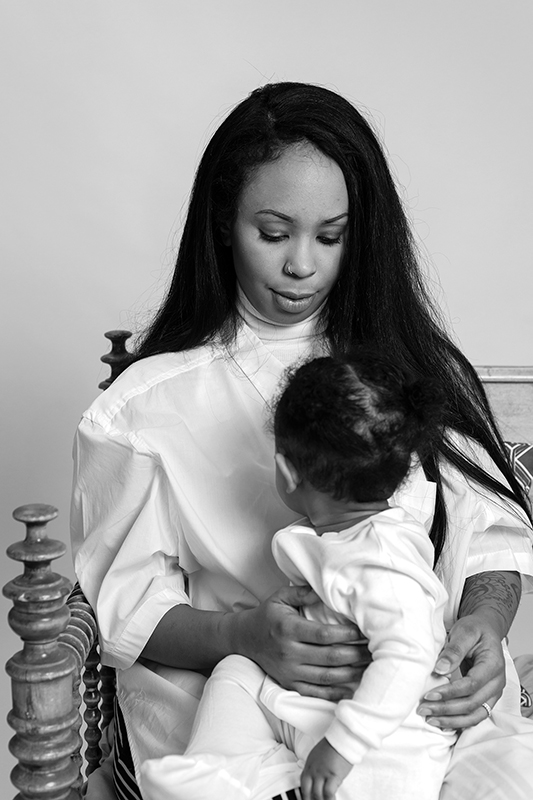 Solana Cain is a freelance photojournalist, facilitator and birth worker. Her intent is to recognize and honour the myriad of lived experiences of Black women and girls through photography. Solana is a currently training to become a childbirth educator after completing doula training. Developed while an artist in residence at Nia Centre for the Arts in Toronto, ON, Canada.